Current Projects
Project Harmony
Project Harmony offers relationship education and skills related to success in the workplace. Participants in this program will learn effective communication strategies, gain tools to cope with stressful situations, learn to listen and be heard, and improve conflict management skills to positively impact their careers and relationships.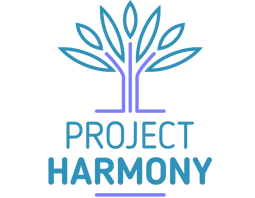 Project Harmony utilizes the Prevention and Relationship Enhancement Program (PREP), an evidence- based relationship curriculum. PREP is designed to equip couples and individuals with the necessary skills to tackle conflict and daily stressors to promote and foster positive connections within their relationship. It is undeniable that expected and unexpected life stressors, such as becoming a parent, financial difficulty, and unemployment, can have an adverse effect on the success of a relationship. Within the PREP curriculum, participants learn to understand and recognize that stress is inevitable and learn skills to help manage aspects that can be controlled, such as communication and expectations. The program also explores beliefs and expectations about relationships to minimize these potential areas for conflict within the couple.
Our research shows that PREP is proven to be an effective intervention in improving relationships. Couples report increased relationship happiness, more positive communication, and less negative behavior and emotion when compared to couples who did not receive relationship education. Couples who received the PREP intervention showed greater use of communication skills, problem- solving skills, positive affect, and greater support compared to those who did not.
ALL Project Harmony workshops are provided at no cost to participants, include hot meals for each workshop, and childcare at most workshops. Additionally, each participant will receive incentives in the form of Walmart gift cards for participating.
If interested in learning more about how to enroll in Project Harmony, please contact us.
Read what our past participants say about Project Harmony here.
Funding for this project was provided by the United States Department of Health and Human Services, Administration for Children and Families, Grant: # 90ZB0009-01-00. These services are available to all eligible persons, regardless of race, gender, age, disability, or religion.
Project Harmony is classified as a research study at the University of Central Florida, UCF IRB STUDY00002385. This study is under the direction of Dr. Sejal Barden, Principal Investigator and Dr. Dalena Dillman Taylor, Co-Principal Investigator.