What is Relationship Education?
Relationship education is scientifically proven to help your relationship and give you tools you need to communicate better.  Our relationship programs utilize evidence-based curriculums that teach couples how to communicate better, relieve stress, and fight less often. Relationship Education can be described as a road map for helping people find strategies and solutions that fit their circumstances, values and relationship goals. By using evidence-based skills training, people can learn techniques to navigate typical relationship challenges and safely express emotions. All of our skills are safe and provide time-limited structures for conversations that matter. Ultimately, relationship education is grounded in the understanding that our relationships impacts our quality of life, happiness, and the ability to pursue cherished dreams and aspirations.
Funding for this project was provided by the United States Department of Health and Human Services, Administration for Children and Families, Grant: # 90ZB0009-01-00. These services are available to all eligible persons, regardless of race, gender, age, disability, or religion.
Project Harmony is classified as a research study at the University of Central Florida, UCF IRB STUDY00002385. This study is under the direction of Dr. Sejal Barden, Principal Investigator and Dr. Dalena Dillman Taylor, Co-Principal Investigator.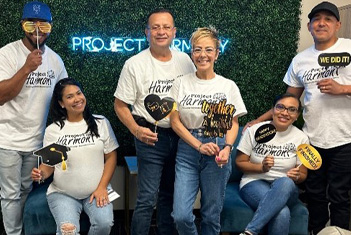 ENHANCING RELATIONSHIPS.
EMPOWERING CAREERS.
"But what if I already have a great relationship?"
RE can benefit all couples. Whether you argue often or not, you can gain valuable skills to continue strengthening your relationship. By participating in Project Harmony, you will learn to:
Listen and be heard
Understand your partner better
Relax in stressful situations
Work together to solve problems
Find more time for fun
Interested in learning more about our current project, Project Harmony? Find out more here.